A True Hybrid Class of Prints
It is well established the Hiroshi Yoshida self published most of his woodblock prints.  He established his own studio, where the blocks for his prints were carved and the designs printed.  Around the time of his death in 1950, his older son, Toshi Yoshida, took over the studio. and in addition to the production of his own work, arranged for the posthumous printing of his father's work, with printed Japanese and English signatures.  And of course, since Hiroshi was no longer around to give his approval, the posthumous prints do not have jizuri seals.
Coming from this background, it is not at all surprising that in the 1990s, when Toshi Yoshida's final illness left him too weak to sing his prints, the Yoshida Hanga Studio, came up with the idea of a hybrid print, known as the Raised Seal Editions.  Although these prints have a printed English signature; there is an embossed artist's seal (hence the term "raised"), signifying that Toshi was still alive.  After his death in 1995, when the works were truly posthumous, the raised seal was no longer used, and the name of printer was stamped on the reverse.
The bulk of the Raised Seal Edition designs draw from the unlimited edition pieces, although there are a few limited edition images of raised seal designs, which had been printed, but not yet signed.
Because the majority of our Toshi Yoshida prints were acquired directly from a family member, we have been able to acquire a limited number of Raised Seal works.
SEARCH BY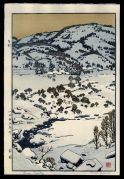 Yoshida, Toshi, 1911-1995
Snow Country
$350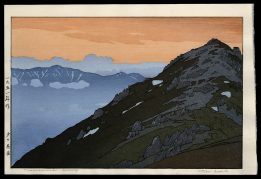 Yoshida, Toshi, 1911-1995
Tsubakurodake, Evening
$350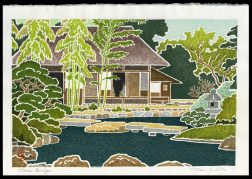 Yoshida, Toshi, 1911-1995
Stone Bridge
$300