June 12, 2021 Auction of Ukiyo-e and Meiji Prints
Posted on June 8, 2021
Here are some of the FaceBook posts we uploaded for our Ukiyo-e and Meiji Auction. Click here for our Facebook page.
Posted on June 9: What has head of a monkey, the legs of a tiger, the body of a dog and the front half of a snake for a tail?
The Nue, from Japanese folklore.
Many artist's have portrayed the Nue, including Masayoshi, Utamaro (in an inset), Kuniyoshi and Yoshitoshi.
We have a Nue design at Lot 89 in our June 12 Auction of Ukiyo-e and Meiji Prints, exclusively on the LiveAuctioneers platform, from Kuniyoshi's Kisokaido series.
Click here for more information about the Nue.
Click here for more information about Kuniyoshi's Kisokaido series.

Posted on June 8: We Have Some Real Beauties in our Auction
Here is a selection of bijin-ga/beauties in our auction. Starting at the top:
Posted on June 5: And the winner of the most gruesome image category goes to …
In 2020, the Ota Memorial Museum of Art hosted an exhibition entitled Tsukioka Yoshtoshi – Blood and the Bewitching, featuring the genre commonly called chimidoro-e (bloody pictures), depicting cruel scenes of killings and dead bodies. Click here for more information on that exhibition. We have our own example of Yoshitoshi's chimidoro-e. Take a look at Lot 135, depicting Takeda Katsuyori Killed in Action at Tenmokuyama. In this 1582 battle, Katsunori's forces were destroyed by the combined armies of Oda Nobunaga and Tokugawa Ieyasu, after which Katsuyori, his wife, and his son committed their ritual suicide, known as seppuku.
Posted on June 3: The Life of Yoshitsune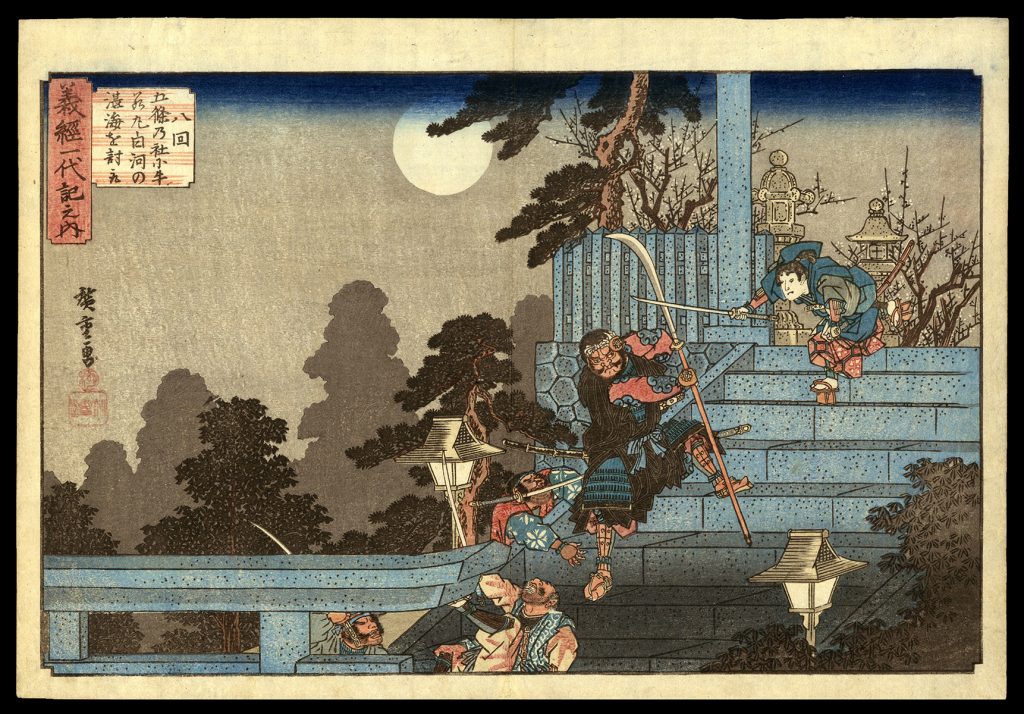 One Hiroshige's early series is The Life of Yoshitsune, published between 1832-34, by Tsuruya Kiemon (Senkakudo). Consisting of at least 10 horizontal oban images, it is well documented by scholars, and represented in major museum collections. Click here to view the entire series.
Like the Fifty-three Stations of the Tokaido Road, Hiroshige revisited this subject again, both in a vertical oban series published by Tako between 1843–47, as well as in an ehon in published in 1856.
We are offering #8 from the series (shown above) – Ushiwakamaru Defeats Tankai of Shirakawa at the Gojo Shrine – as lot 20 in our June 12 Ukiyo-e and Meiji Japanese Woodblock Print Auction.
June 2: Now I want a Skeleton Robe
One of the most fascinating prints in our upcoming auction is Lot 73, an Osaka school kabuki actor portrait of Ichikawa Ebijuro in the role of Token Jubei, by Shunkosai Hokushu (active 1810-1832). The actor is shown wearing a skeleton robe.
Examples of this print are in the collections of Boston's Museum of Fine Arts, The Metropolitan Museum of Art in New York City, and the Honolulu Museum of Art. The MFA listing indicates that the Kabuki play was Benimurasaki Aide Someage (Red and Purple, Rich Dyes of Osaka), performed at the Kado Theater, in 1816 More information about the artist is available at John Firoillo's helpful site, Viewing Japanese Prints.
May 31: Who's a Tokaido Fan?
The Fifty-three Stations of the Tokaido Road, providing a pictorial view of the eastern sea route from Edo (Tokyo) to Kyoto, are well represented in our Auction , with examples by Hiroshige from the Hoeido Tokaido Series, the Gyosho Tokaido Series and the Upright Tokaido Series. We also have images from the Fifty-three Pairings for the Tokaido by all three contributors (Hiroshige, Kuniyoshi and Toyokuni III), two designs from the Twin Brush Tokaido Series where the figures were drawn by Toyokuni III and the landscapes by Hiroshige, and finally a selection of designs from Toyokuni III's 1852 Tokaido Series. Here as some examples of the series mentioned above.
May 25: One of our Favorites
One of our favorite prints in our Auction is a Kunichika (1835-1900) triptych of Actor Ichikawa Sadanji as Kochiyama Soshun in Kochiyama To Naozamurai, 1880, offered as Lot 71. It is a shikake-e (a print having a paper flap that can be lifted to reveal a different picture, such as another costume). There is a shikake over the large writing in the right panel, revealing alternate text. At one point there was also a shikake over the face.
BACK TO POSTS